Even if your spring break or vacation plans were canceled (let's just say postponed!), that doesn't mean your pretty pedicure doesn't deserve to be shown off. So strap on a pair of fierce gladiator sandals for spring, or slide into a pair of embellished sandals that make any outfit feel super special. No matter where you're going, or not, your shoe game should still be strong–and that's true no matter what season it is!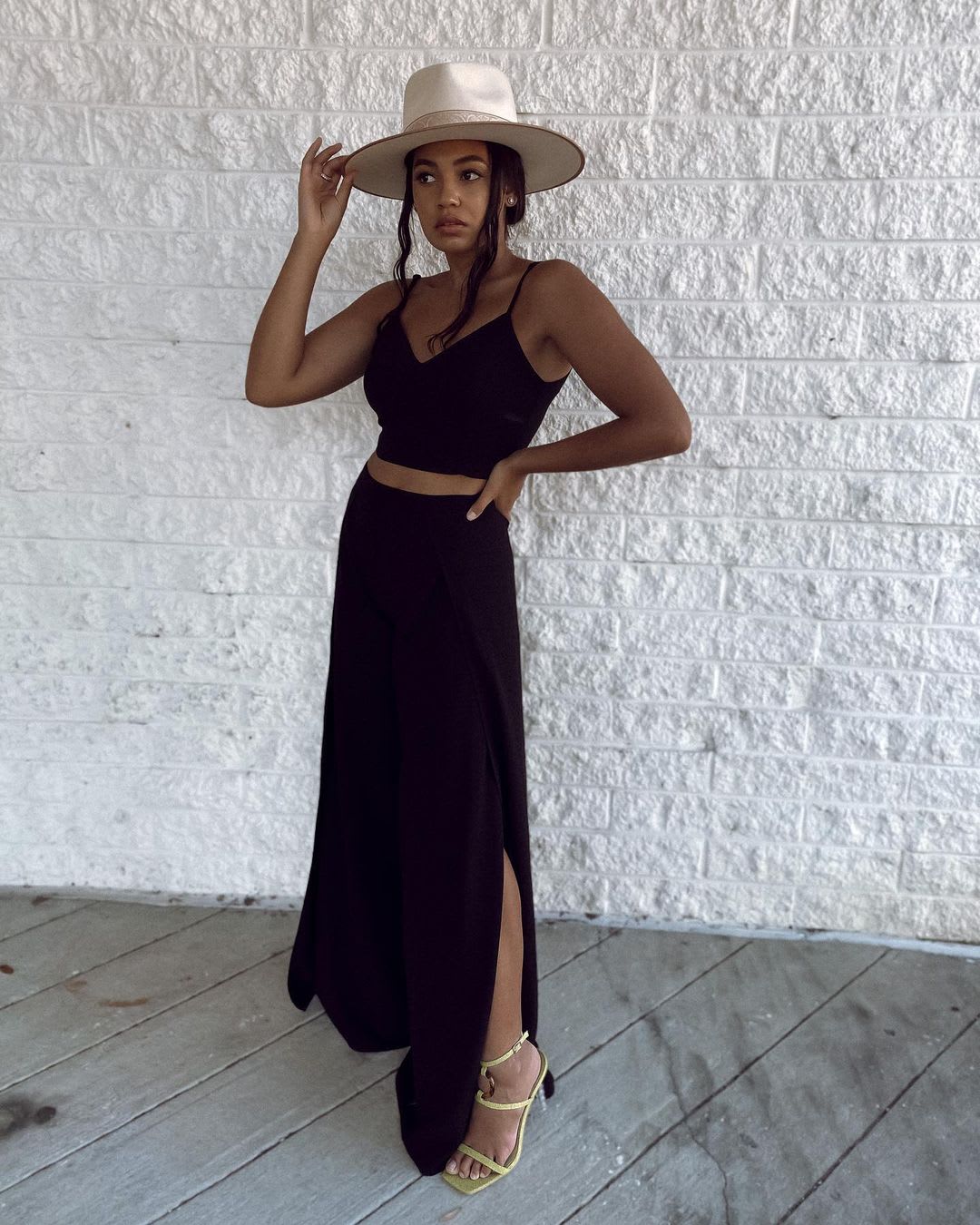 This spring, we're looking ahead to pretty pops of pastel (think minty greens and candy pinks) and sophisticated neutrals that go with everything in your closet–even your sweatpants. Special details like lace-up straps, feathers, chains, and tortoise resin accents also abound–there's a lot to look forward to.
So if you've been living in slippers, sneakers, or Uggs all quarantine, give your toes some room to breathe in these chic sandals that will instantly transport you to a beach or poolside somewhere–at least, mentally.
Let Me See That Thong
Thong sandals are back, baby. While they never really went away, for years they were reserved for the pool  or strictly casual wear. Now, we're seeing them in higher heights and we're pretty stoked about it. Slip on a pair to feel like you're poolside in vegas, even when you're in your parents' backyard.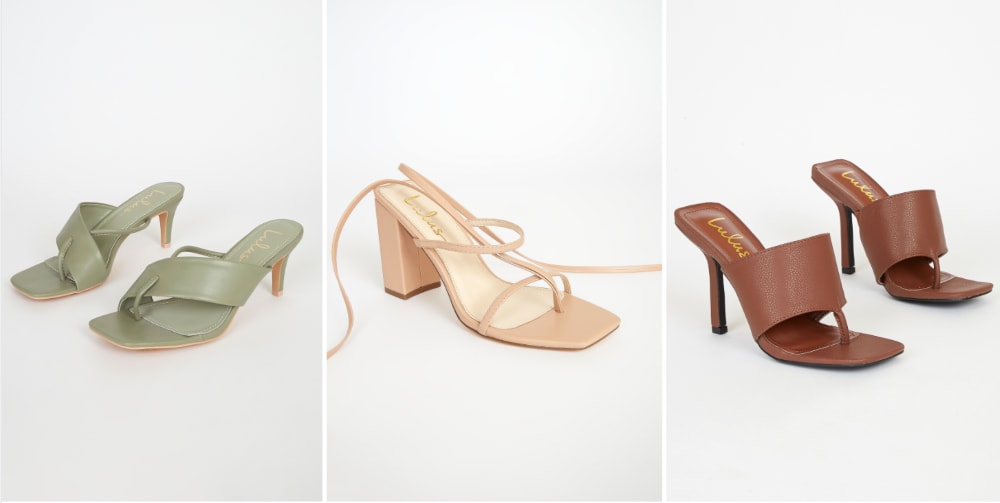 Shop the Look: Bern Sage Green High Heel Sandals, Nani Light Nude Lace-Up High Heel Sandals, Loulin Brown Pebbled High Heel Sandals
Embellished Story
Show off your fresh pedicure with a flashy pair of embellished sandals. From chains to feathers, your spring footwear is getting a major upgrade this year. What better way to add excitement to your life than with a jazzy pair of sandals?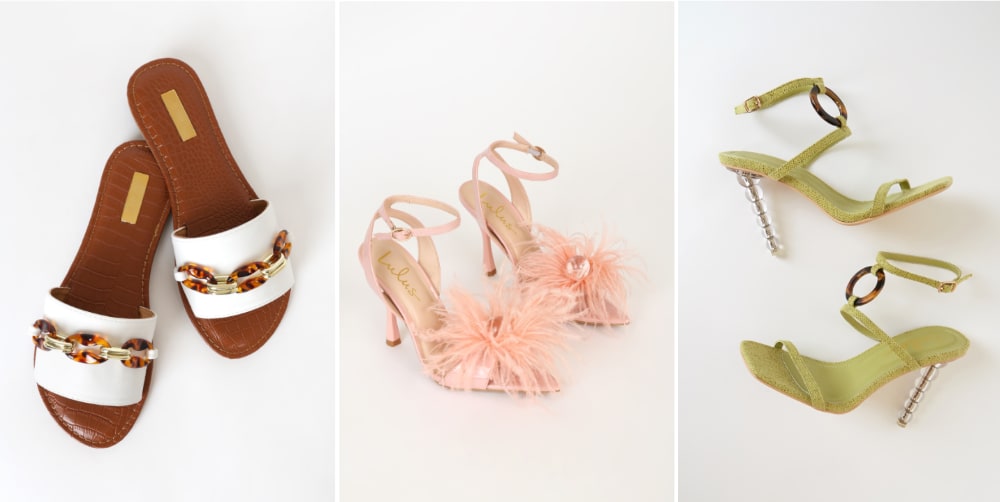 Shop the Look: Berty White Chain Slide Sandals, Harlee Pink Patent Feather High Heel Sandals, Faina Green Ankle Strap High Heel Sandals
Pastel Pops
Pastels are big for spring and they're going to be even bigger for summer. Unlike the standard splashy electric hues, you're going to see a lot of softer shades in sandals, which will complement your Funny Bunny pedicure perfectly.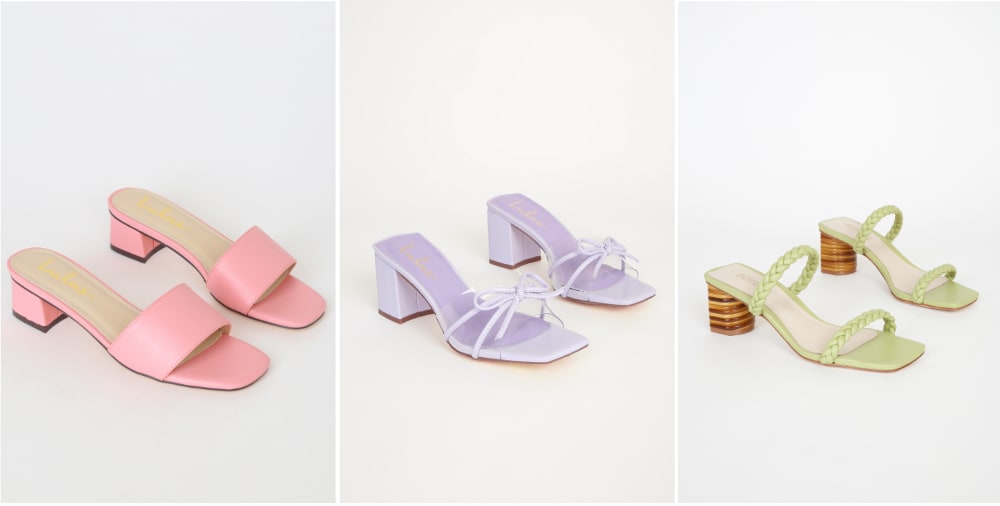 Shop the Look: Janiya Light Pink High Heel Sandals, Yaez Lilac Vinyl High Heel Sandals, Mali Mellow Green Braided High Heel Sandals
All Wrapped Up
We love this gladiator-inspired trend. From flats to heels, lacing up your sandals not only secures them to your feet, but adds a little extra interest than plain old slides or flops.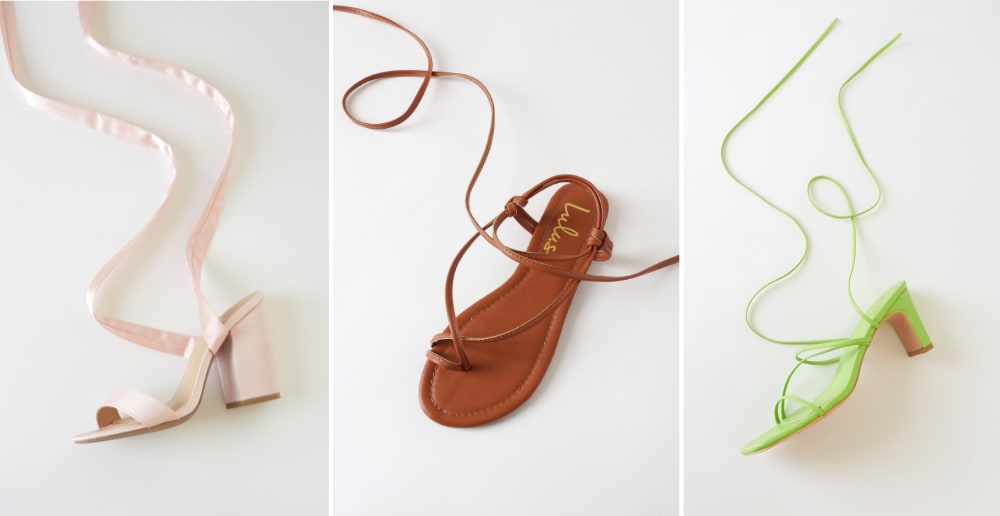 Shop the Look: Alta Blush Pink Satin Lace-Up Heels, Micah Tan Lace-Up Flat Sandals, Aliah Lime Green Lace-Up High Heel SandalsWhich sandals are you buying for spring? Show us yours on Instagram @Lulus using #lovelulus and shop more fashionable footwear from our Spring Shoes selection!